Crotched Mountain
Guest Services
Gift Cards, Lockers, Lost and Found and Contact Info.
Hours of Operation
Opening and closing times may change throughout the season. For the most up to date information view our Hours of Operation page.
View Current Hours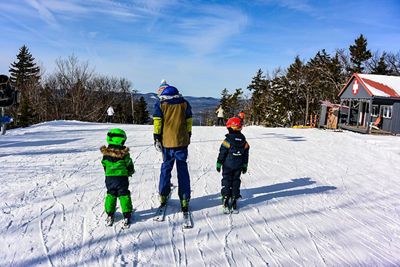 Give the gift of skiing & riding
Gift Cards
Resort Gift Cards make great gifts for skiers and riders of all ages. They are great for celebrating a birthday, holiday or special event.
To purchase a gift card, please call 1.603.588.3668
Crotched Mountain's Gift Card
MAY NOT be used for online purchases. Valid for on resort purchases only
Available in any denomination
Completely transferable
Add additional funds when needed
No refunds or replacements if lost or stolen, not redeemable for cash!
For gift card balance information or inquires, call 1-603-588-3668
No expiration date
Completely transferable to others
If ordered pre-season, the card will be sent by mail. Gift Cards must be presented at the time of purchase. Each transaction amount is deducted from your credit balance.
Previous tab
Previous tab
Resort Services
Seasonal Locker*
Rate: $179
Secure a gear locker conveniently located in the base lodge, on the main floor. Restrooms and benches for getting geared up are provided in the same area. Locker access is valid for the entire winter season. Locks are a responsibility of the renter, but are available for sale in the retail shop. Just give us a call or stop in to purchase your seasonal locker today. If not renewed, all lockers should be cleaned out at the end of the ski season, no later than May 15.
Training Center Locker Room (Race Building)*
Rate: $199
This locker room is only available to those athletes in our seasonal race/mountain development programs (along with their family). This private space in the Training Center that has coded access, large gear lockers, a private bathroom, tuning bench and boot dryers. Purchase a locker and store your gear for the entire season. In addition, this locker room is located only a few feet from our Rocket chairlift, the epicenter of Crotched Mountain base area. If not renewed, all lockers should be cleaned out at the end of the ski season, no later than May 15.
Previous year locker rentals
Please renew by May 15 or clean out your belongings entirely, so we can sell the locker to the next family.
Purchasing
Lockers are sold on a first come, first serve basis. To purchase, swing by the Season Pass office during business hours, or give us a call at 603.588.3668. Getting a locker is that simple!
*Availability Limited
Main Lodge - Lower Level Daily Lockers:
Rate: $5/day Small and $10/day Large.
ACCESSIBILITY & PARKING
For your convenience, there are designated parking spaces located in front of the base lodge. A centrally located elevator (next to the ticket sales) makes Crotched Mountain lodge completely wheelchair accessible.
---